I rarely review books with non-technical content here, but I just felt like I had to with this one.
The book Got Fight? was written by Forrest Griffin, assisted by Erich Krauss.
Forrest Griffin is one of the toughest light-heavyweight mixed martial artists competing in the UFC. If you are unfamiliar with MMA and UFC, I encourage you to watch one of the Forrest Griffin tribute videos on Youtube.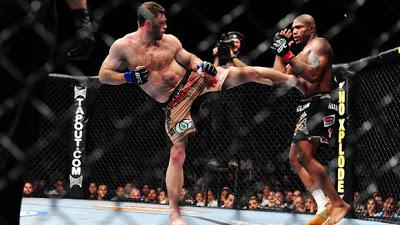 This book touches several subjects. Forrest talks about the path he followed to become a professional fighter and what made him who he is today. Forrest also shares a bunch of advice on fighting and non-fighting topics. The last part of the book contains a series of how-to MMA techniques. All these topics are talked together in the form of hilarious, and sometimes offending (to some of you), ramblings. After all, the main goal to read this book shouldn't be to learn, but to be entertained, and maybe learn something along the way!
Below you can find some quotes taken from the book, which will probably tell you a lot more than my small summary above.
Forrest on..
.. sphincter control
Back in the day, when I first met a chick, there was no way I would let one rip. I would wait until at least the second or third date before I introduced her to my Love Potion 109.
.. advice for the fat and tremendously out-of-shape fighter
Steroids, steroids, steroids. This magic elixir can replace all forms of training and will add to your intimidating appearance.
.. cheating
When asked about the tactic after the fight, Tito said, 'If you ain't cheating, you ain't trying'. I would have to agree with him. I would rather be known as a cheater than a loser. Seriously, I have this deep hatred of losing.
.. fear
A black eye will dissapear and a broken nose can be mended. Fear is a good thing because it keeps you alive, but it becomes so great that it hinders you from doing what you want, you need to confront it head-on.
.. eating challenges
I kept mumbling over and over, 'Oh God, I made a mistake', and vociferously promised sweet baby Jesus I would never accept an eating challenge again.
.. being humble
Although it can be depressing to admit to yourself that you will never be the best, it is liberating at the same time. Instead of trying to be better than everyone else, which is existentially arrogant, you can focus on being the best that you can be.
My rating: 4/5. This is probably the funniest book I have ever read.
Photo credit: ESPN